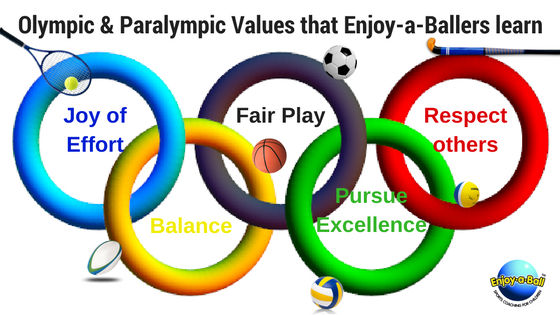 Every 4 years we get the opportunity to witness, and be inspired by, the prowess of a very exclusive group of people who have trained for years – through sunshine and rain – to become Olympians. Only a few of them achieve the highest reward – a place on that podium, while the rest vow to work even harder to achieve that ultimate feat. We see Mo Farah falling during his race, but he gets up and wins another Gold medal for the 10 000m. Louis Smith wins a Silver medal while his teammate Max Whitlock takes Gold. Michael Phelps wins another gold medal after deciding to make a come-back. Andy Murray earns his second Olympic Gold with grit & determination.
No matter what event you like, it's difficult to watch the Olympics and not feel inspired. I can't help myself—I have to stand up, my palms get sweaty, and I find myself shouting "Go, go, go!" and "You can do it!" at the TV (to the horror of the teenagers in the house!).
Children can learn a great deal from these Olympians. From concentration and perseverance to sportsmanship and goal setting. At Enjoy-a-Ball we feel passionate about incorporating the teaching of these life skills into our sports coaching programme.
Joy of Effort – Challenge yourself and others through movement, games and sports.
Balance – Use physical movement to create a balance between body, will and mind.
Pursue Excellence – Try to become the best at whatever you do.
Fair Play – Play fairly, and respect rules; don't cheat; help others.
Respect Others – Accept and respect diversity among people and cultures.
We are half way through Rio 2016, and with the controversy surrounding this and so many sporting events and sports people, I (for one) feel that the focus should still be on the fact that these people, these Olympians, are truly amazing and inspirational.
https://www.olympic.org/olympic-games